Differentiated neighbourhoods of New Belgrade
Project of the Centre for Visula Culture at MoCAB
projections, promotion of the publication, public discussion…

The project explores different connotations of the term neighbourhood, in the vocabulary of its urban, architectural and social contexts, and that it analyses the historical development and actual dynamics of urban transformations of the neighbourhoods of New Belgrade. This sentence could be seen as a common denominator and a platform for all different approaches to the topic developed in the course of more than a yearlong process of working within an international and interdisciplinary team.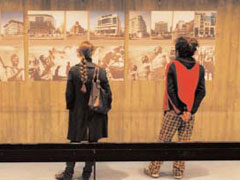 The particular topics that we would like to underline as a focal point of the public debate are:
– How to build on the local socio-political legacy of workers self-management and reaffirm this concept in the new context where different kind of self-organization would be desirable?
– How to deal with rapid urban transformations resulting in socio-spatial homogenisations and segregations?
– Is there a possibility for spatial justice in the city neighbourhoods?


Monday, 11.01.2010 at 19.00
Galerija Miroslav Kraljević
Šubićeva 29

participants in public discussion:
Aleksandar Dimitrijevic, Stefan Römer, Helmut Weber
moderator and project presentation: Zoran Eric

On the publication:

The publication Differentiated Neighbourhoods of New Belgrade is structured in three parts and is accompanied with the DVD with 6 films, documentaries or video works produced in the framework of the project.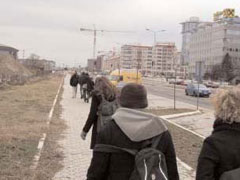 The first part gives overview of the theoretical concepts of neighbourhood in different social systems, and particularly revisits the concept of New Belgrade as administrative capital of socialist Yugoslavia and development of its neighbourhoods in socialism.
Contributions from: Ljiljana Blagojevic, Mina Petrovic, Tamara Maricic & Jasna Petric, Sabine Bitter and Helmut Weber.
In the second part the focus is on the process of urban transformations in New Belgrade and (im)possibilities of avoiding socio-spatial segregations and preventing the breaking through of neoliberal capitalism into the "empty" spaces in the city. The main questions are in what way differentiated neighbourhoods could be formed, and not shopping malls and business districts, and who makes decisions about this?
Contributions from: Mina Petrovic and Vera Backovic, Mark Terkessidis, Stefan Roemer, Aleksandar Dimitrijevic, Ljiljana Blagojevic, Dubravka Sekulic and Dunja Predic and Davor Eres.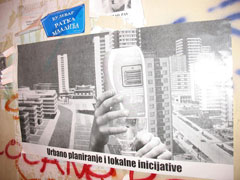 The third part shows the "inside view" – subcultural, marginalized and segregated neighbourhoods and meeting places in New Belgrade. The main issue is if there exist the sense of belonging to the "hood" and how to initiate creation of community or neighbourhood?
Contributions from: Milica Lapcevic and Vladimir Sojat, Ljiljana Radosevic, Jakob Kolding, Sanja Jovovic, Dusan Cavic and Dusan Saponja, Bik Van der Pol, Stevan Vukovic



Projections:

Stefan Römer, Boulevard of Illusions: Learning from New Belgrade, 2007, 24'47"
Sabine Bitter & Helmut Weber, NEW, New Belgrade 1948 – 1986 – 2006, 2007, 20′

Biographies:

Zoran Erić is an art historian, curator, and lecturer. He holds a PhD from the Bauhaus University in Weimar. Currently he is working as curator of the Centre for Visual Culture at the Museum of Contemporary Art, Belgrade. His research fields include the meeting points of urban geography, spatio-cultural discourse, and theory of radical democracy. Between 2005-2008 he was a member of the IKT Board and currently he is the President of the AICA Serbia.
Aleksandar Dimitrijević holds an M.A. at the Faculty of Fine Arts in Belgrade. During a long-range stay in Vienna and Cologne he dealt with problems of the conflict zone between public and private space, and especially with usurpation of public city spaces for the purposes of advertising. From 2000 he deals, in critical way, with the phenomenon of social, political and cultural transformation of Serbian society after the change of the political system and the introduction of the country into the process of transition and privatization.
Stefan Römer is professor for New Media at the Academy of Fine Arts in Munich and works conceptually between art practice and theory; his works and essays are widely exhibited and published. His background is politically motivated activism and documentarism with the tendency to de-conceptualize traditional epistemological canons and dissolve academic subjects.
Experimental films: The Analysis of Beauty, 1998; Corporate Psycho Ambient, 2003. Documentary film: Conceptual Paradise, 2006.
Books: Corporate Psycho Ambient, 2001; Encounters with Germans, 2003; «temporary architectures», 2005; Reports from the Conceptual Paradise, 2007.
Since 1993, Vancouver and Vienna based artists Sabine Bitter i Helmut Weber have collaborated on projects adressing urban geographies, architectural representations and related visual politics. Their series of photo- and video-works engage with specific moments and cultural logics of (neoliberal) globalization, as they are materialized in neighbourhoods, architecture and everyday life. Since 2004 members of the cultural collective Urban Subjects US.