Angel Nevarez

Angel Nevarez and Valerie Tevere's interests lie in the formation of mobile, performative and discursive-based social spaces, along with the re-articulation of communicatory systems within such locales. Through various media forms, their current projects investigate contemporary music, dissent, and public fora, and move between the spatial simultaneity of performance and enunciation, reflecting upon the projection of political agency through transmission and song.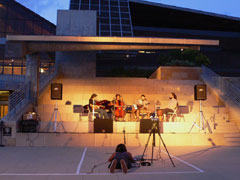 Recent fellowships include: a 2008/09 Creative Capital fellowship and a 2009 Art Matters grant. Solo exhibitions and projects include: the Staten Island Ferry, NYC; WUNP, unitednationsplaza, Berlin & Mexico City; Museo de Arte Raúl Anguiano, Guadalajara, Mexico; and Henry Art Gallery, Seattle, WA. Nevarez and Tevere are currently in-residence at the International Artists Studio Program in Sweden (IASPIS), Stockholm.
Nevarez is an artist, musician, and DJ.

Tevere is an artist and Associate Professor of Media Culture at the City University of New York / College of Staten Island.
www.nevareztevere.info

Artist talk
Friday, 04.12.2009. at 19.00
HDLU
Trg žrtava fašizma bb