Kristina Leko and Judith Laister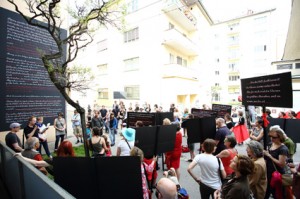 (NO) MONUMENTS FOR LABOUR AND IMMIGRATION

project presentation and discussion
Wednesday, 26. 6. 2013 at 19.00
Galerija Nova (Showroom), Teslina 7

The Graz Annenviertel has always been home to the working people. In the times of industrialization, the emerging working class also began to organize itself here to fight for rights and social improvements. The history of labour, and the related history of immigration have left their traces in the Annenviertel. Up to the present, the Annenviertel has remained an important quarter for immigration to Graz.
The Zagreb-born artist Kristina Leko, who lives in Germany now, has developed a site-specific series of text artworks dedicated to this subject. In doing so, she collaborated with several players: historians, cultural anthropologists, local associations and organizations as well as individuals who look back on a personal history of immigration. The text-based artworks highlight eight locations which are historically marked by the subjects of work and immigration. Most of times there is a historical text which refers to the history of the labour movement combined with a biographical text which offers insight into the life of immigrants who live or work nearby. The history of labour and immigration became visible for the first time, and over the long term at several locations in the Annenviertel.
The biographical research for the artworks has been conducted by students of European ethnology in collaboration with the artist. The scientific supervision for the research has been provided by Judith Laister in the framework of a seminar focusing on representational critique. There have always been several individuals involved in the production process of each text. One of the project's major concerns has been to facilitate encounters between students and Annenviertel residents, which took place, amongst other locations, at the historically significant sights and in the < rotor > art center as project initiator and producer, in cooperation with Institut für Kunst im öffentlichen Raum Steiermark.

Kristina Leko specializes in socially engaged, critical and participatory artistic practices, and works in the medium of video, photography, text, and object installation, with social interaction at the core of her investigation and activity, which is often placed in public space. She has initiated and realized several extensive community art projects in different countries, mainly in collaboration with deprived social groups (immigrant workers, elderly, homeless, unemployed…).
www.kristinaleko.net
Judith Laister is a cultural anthropologist and art historian. As an University Assistant at the Department of Cultural Anthropology of the University of Graz she does research work and teaching focusing on urban anthropology and visual anthropology. Her ongoing habilitation Project is entitled "Translation Art. Pictures and Practices of Participatory Urban Development in Art and Architecture".