Clare Butcher
On Fences and Neighbourliness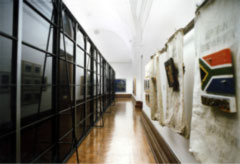 Walls are never a good thing – right? For decades, at least in South African history, walls have only served to segregate, to mask, to enforce. Whether physical or conceptual, walls have been the dividing lines designating rights to property and citizenship – quite literally: the structures of modern society. But what if the possibility mentioned by Robert Frost in his poem of 1914 was true, that good fences make good neighbours? Were we to look again at the poet's famous dilemma in Mending Wall, we'd see that the politics, or indeed ethics, of closeness are never linear. Before we build a wall we need to know what it is, after all, that we are "walling in or walling out".
No discussion on artistic practice in contemporary South Africa (and hopefully not only there) can avoid addressing the issues of property and labour in relation to, what John Locke spoke of so long ago as, the commonwealth. Barring an imperial lexicon all too familiar to our part of the world, we could mean in this case, the common cultural wealth of a society very visibly trying to rebuild itself. What do we do with the ideological bricks and political borders that have been erected and dismantled so haphazardly in the last decades? What do we do with the undesired branches of traditions that overhang onto "our side" of the new century?
The wall is also a surface for projection, they can support things, they can act as an "anti-illusionistic device" – showing the constructed nature of all those inclusions and exclusions, what is useful and of common value, what is worth protecting and what is worth exposing. As we seek to make new territory for artistic labour, yes, we will need to confront some dividing walls. But perhaps it is also mending-time, whereby using balancing spells and a little of Robert Frost's Spring mischief, we engage in a morality of neighbourliness once more. A neighbourliness that forges new alliances, connects, but also complicates the makeup of commonwealth and the right to belong.
Clare Butcher (Harare, 1985) s a curator and researcher with the Centre for Curating the Archive at the University of Cape Town, currently looking into modern South African exhibition history. In 2010 she was curator of Your-space platform, Van Abbemuseum, Eindhoven (NL) and facilitator of the Autonomy Project (theautonomyproject.org). lare completed the de Appel Curatorial Training Programme in Amsterdam in 2009 and has curated exhibitions in South Africa, Egypt, Denmark, Sweden and Germany. She writes for a number of art journals, does some lecturing, editing and cooks.

>> talk
Monday, 3 October 2011 7pm
DAZ
Trg bana J.Jelacica 1/3