Chris Lee
When Goldsmiths Became (history's most powerful) Graphic Designers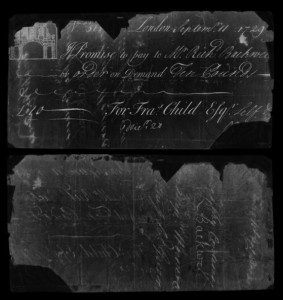 The reversal of modern capitalism involves not only the struggle against material bondage and visible forms of repression, but also, from the outset, the creation of many alternative set-ups.
Félix Guattari, Autonomia: Post-political Politics, Los Angeles: Semiotext(e), 2007, p. 109
This workshop is geared towards graphic designers interested in exploring possible ways for graphic design practice to address a political-economic urgency through an intervention in the design of currency. Starting from the formal design of a currency, participants will extrapolate a blueprint for the kind of world it could exist in, as a possible template for a broader political programme.
May 9 – 11, 2012
presentation: May 11 at 20.00
Gallery of Croatian Designers Society, Boškovićeva 11

Chris Lee is a graphic designer from Toronto, Canada, currently based in Amsterdam, The Netherlands where he graduated from the Sandberg Institute in 2012. Chris' projects and writing have recently appeared in The Copyist (Van Abbe Museum, Eindhoven), the Pilot Studies booklet series (InCubate, Chicago), Journal of Aesthetics and Protest (Los Angeles) and Volume magazine (Amsterdam).
http://www.unitedunderwear.com/
http://nifem.tumblr.com/
The workshop is organized in collaboration with Scholl of Design at the Faculty of Architecture in Zagreb and Croatian Designers Society.
Coordinator: Irena Borić